Welcome!
Hello and Welcome to Fairytales Wiki! We are a collaborative online encyclopaedia for everything related to Fairy Tales! Here you can browse our pages full of information!


We are currently editing 37 pages!
All pages can be edited and you are welcome to join!

Please, only original Fairy Tales!
Featured Article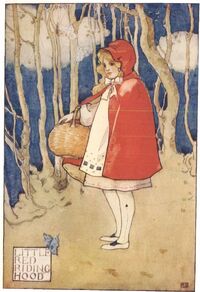 Little Red Riding Hood
or Little Red Ridinghood, also known as Little Red Cap or simply Red Riding Hood, is a French and later European fairy tale about a
young girl
and a
Big Bad Wolf
. The story was first published by
Charles Perrault
.
The story revolves around a girl called Little Red Riding Hood, after the red hooded cape/cloak (in Perrault's fairytale) or simple cap (in the Grimms' version called Little Red-Cap) she wears. The girl walks through the woods to deliver food to her sickly grandmother (grape juice and banana bread, or wine and cake depending on the translation). In the Grimms' version at least, she had the order from her mother to stay strictly on the path.
A mean wolf wants to eat the girl and the food in the basket. He secretly stalks her behind trees and bushes and shrubs and patches of little grass and patches of tall grass. He approaches Little Red Riding Hood and she naïvely tells him where she is going. He suggests the girl pick some flowers, which she does. In the meantime, he goes to the grandmother's house and gains entry by pretending to be the girl. He swallows the grandmother whole (in some stories, he locks her in the closet) and waits for the girl, disguised as the grandma. (see more...)